How will drones impact our lives?
The use of drones is growing exponentially. This technological revolution will profoundly transform many aspects of life.
Today, drones are commonly used in such applications as defence, delivery, photography and filmmaking. However, the use of this technology is rapidly growing well beyond these sectors.
In our white paper, How drones are changing our society, you will discover innovative and inspiring use cases across a wide range of sectors. Explore the challenges of drone operations and learn how SkeyDrone solutions can overcome them to help you fully realise the benefits of this transformative technology.
Download our whitepaper
Learn how european companies are applying drone technology in exciting new ways.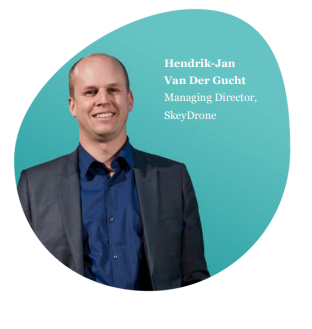 This whitepaper 
looks at the many ways European companies are using drones to perform existing tasks more efficiently and cost effective, or are offering truly ground-breaking solutions in their sectors
The evolution of drone technology and applications is far from over. It's actually just taking off. Although we can't precisely foresee all the exciting developments in store, one thing is certain: the use of drones will have a huge impact on our society
Also in this paper : 14 use cases that can have an impact on our society
The presented use cases are mostly taking place in European skies. We organized them according to different economic sectors.
Surely this is not a complete overview of "all" innovative drone operations in Europe. Far from it. Since every day, new creative and ground-breaking operational solutions are demonstrated throughout Europa and everywhere on the globe. We do hope you get inspired and become "dronified"as we are.