What's going on here?
Today D-Hive (The Port of Antwerp-Bruges automated Drone-in-a-Box network) executed its first regular automated BVLOS flight! It received formal Operational Authorisation from the Belgian Civil Aviation Authority (BCAA) to fly regular BVLOS flights in and for the Port of Antwerp-Bruges.
Why is this important?
It's certainly not the first time we've seen a drone fly BVLOS in the Port of Antwerp-Bruges. Still, until now these flights were executed by temporarily closing the airspace to all other aircraft, under the protection of a TSA (temporary segregated airspace). Segregating airspace is not a scalable solution for operating drones, especially if the Port of Antwerp-Bruges plans to fly up to 18 times per day, every day of the year.
Why Should I care?
This flight not only represents an important milestone for D-Hive but it proves that SkeyDrone's BVLOS Framework was accepted and recognised as a "safe to fly" risk-mitigating framework. This BVLOS Framework will from this day forward allow many other drone operators to conduct scalable BVLOS Flights in congested airspaces and in high-risk environments. This BVLOS Framework serves as a sandbox for future U-space airspace!
Kudos to Belgium
SkeyDrone believes in a future where drones have seamless access to airspace, where they can operate in the most efficient, safe & secure way, and therefore bring significant contributions to both economy and society, without causing unnecessary disruption or grief to others. This is such an important milestone for SkeyDrone, but it could never have been realised if it were not for the ambition of the Port of Antwerp-Bruges who have since 2018 heavily invested in this project by creating a Geozone, investing in an advanced UTM system, investing in a highly automated Drone-as-a-Service solution, and the D-Hive Network, the Drone-as-a-Service solution organised by a consortium of DroneMatrix, Proximus, and SkeyDrone, who invested in the first 6 Drone-in-a-Box stations and prepared the regulatory work that today enables automated drone flights for and in the Port of Antwerp-Bruges.
Kudos to EASA and the BCAA
Both the new Drone Team of the Belgian Civil Aviation Authorities (BCAA) and EASA have helped make this possible, as proving the validity and safety of the BVLOS Framework took a lot of effort to verify, understand and trust from the regulatory services of Belgium and Europe combined.
SkeyDrones BVLOS Framework as a template for U-space
If you are looking for a risk-mitigating framework to implement as a sandbox for U-space, please don't hesitate to reach out and talk to us. 
SkeyDrone's BVLOS enablement as template for U-space
Strategic Mitigation by Structures and Rules SkeyDrone has developed a risk mitigation framework that makes use of common airspace structures and rules to mitigate the risk of mid-air collisions. This framework was created to help drones to fly increasingly complex missions (BVLOS over populated areas) in a safe and scalable manner. Hence it was named the "BVLOS enablement framework".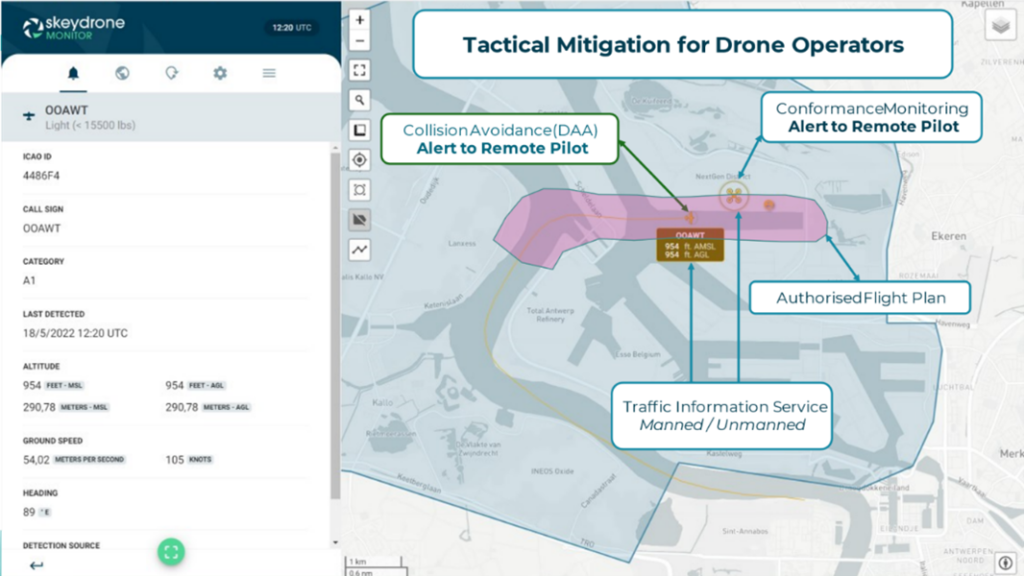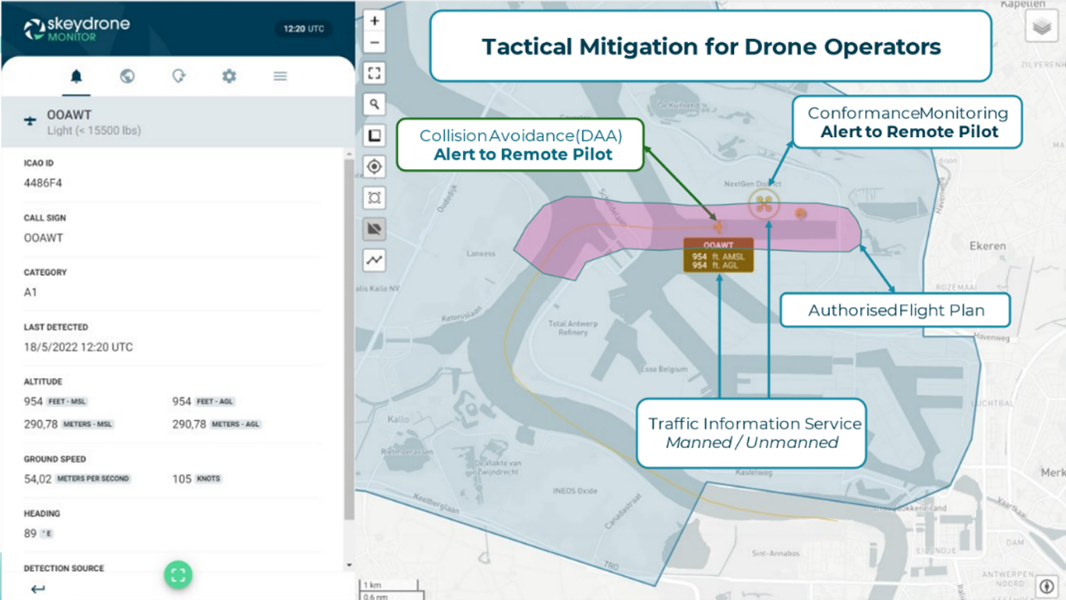 SkeyDrone's Traffic Information Service (TIS) detects both manned and unmanned aviation and alerts the pilot of any aerial conflict